Hastings
District Council
Civic Administration Building
Lyndon Road East, Hastings
Phone: (06) 871 5000
Fax: (06) 871 5100
WWW.hastingsdc.govt.nz
A G E N D A
Landmarks Advisory Group MEETING
Meeting Date:

Wednesday, 4 October 2017

Time:

3.30pm

Venue:

Landmarks Room

Ground Floor

Civic Administration Building

Lyndon Road East

Hastings
Chair: Councillor Travers

Acting Mayor Hazlehurst

Councillors Barber, Dixon, O'Keefe and Redstone

Mrs Ruth Vincent (Acting President, Landmarks Trust)

3 Landmarks Trust Executive Members

(Quorum=5 including 3 Councillors)

Landmarks Trust Executive Members

Anthea Bailey, Joyce Barry, Barbara Brookfield, John Davidson, Jane Fitzgerald, Kathryn Ingram, Diana McCormack, Robin Middlebrook and Mr Richard Coles

Officer Responsible

Parks and Property Services Manager, Colin Hosford

Secretary

Carolyn Hunt (Extn 5634)
Landmarks Advisory Group – Terms of Reference
Fields of Activity
The Landmarks Advisory Group is established to advise the Council on planning the implementation of the Landmarks Developments.
Membership
Chairman – a Councillor appointed by the Council
4 other Councillor members appointed by the Council
The Landmarks Trust Chair
3 others nominated by the Landmarks Trust
Quorum – 5 members including not less than three Councillor members.
Delegated Powers
1. To make recommendations to Council on Landmarks design elements in Council initiated projects.
2. To approve public art projects that are budgeted for.
3. To approve grants from the Abbott Bequest.
4. To make recommendations to the Council on Landmarks projects for inclusion in the LTCCP.
5. To monitor the Landmarks Development Plan and the Hastings CBD Strategy and its programme delivery and effectiveness.
HASTINGS DISTRICT COUNCIL
Landmarks Advisory Group MEETING
Wednesday, 4 October 2017
VENUE:

Landmarks Room

Ground Floor

Civic Administration Building

Lyndon Road East

Hastings

TIME:

3.30pm

A G E N D A
1. Apologies
At the close of the agenda no apologies had been received.
At the close of the agenda no requests for leave of absence had been received.
2. Conflict of Interest
Members need to be vigilant to stand aside from decision-making when a conflict arises between their role as a Member of the Council and any private or other external interest they might have.
3. Consideration of General Business Items
4. Confirmation of Minutes
Minutes of the Landmarks Advisory Group held Wednesday 28 June 2017.
(Previously circulated)
5. Quarterly Report 5
6. Request for Abbott Bequest Funding for George Thompson-Pritchard Artwork Restoration 9
7. Tree & Shrub planting programmes 2017 17
REPORT TO: Landmarks Advisory Group
MEETING DATE: Wednesday 4 October 2017
FROM: Parks Planning and Development Manager
Rachel Stuart
SUBJECT: Quarterly Report
1.0 SUMMARY
1.1 The purpose of this report is to update the Landmarks Advisory Group on current Council and community projects that have an impact on Landmarks goals. This report is for information and feedback purposes.
2.0 PROJECTS
Karamu Road Enhancement Project
2.1 The renewal and enhancement of Karamu Road North between Kenilworth Road and St Aubyn Street is nearing completion, with the planting of the rata trees commencing at the end of September.
2.2 Officers developed a corten steel tree grate & support system that will add a further level of visual enhancement to this key entry route. A rata flower motif has been laser cut into the steel to provide a unique point of difference along this key route.
2.3 As discussed at the last Landmarks Advisory Group meeting as part of the upgrade of the rest of Karamu Road North the planting of rata will be continued through the CBD to Civic Square so that the rata theme is consistent all the way through Karamu Road.
Te Mata Park Construction Project
2.8 Construction will commence in October for the new toilet and carpark facilities at the Tauroa Road carpark and Main Gates Carpark.
2.9 These new facilities were the priority projects identified in the Te Mata Park Management Plan that was adopted by the Te Mata Park Trust Board in April 2016, following public consultation.
2.10 Council is project managing the delivery of these two projects on behalf of the Te Mata Park Trust Board.
2.11 The Trust Board has selected a furniture and design palette that can be identified as coming from the 'Hastings' family, whilst being unique to Te Mata Park. This includes the same style toilet block as Windsor Park, William Nelson Park and Clifton Domain, and seats and bins.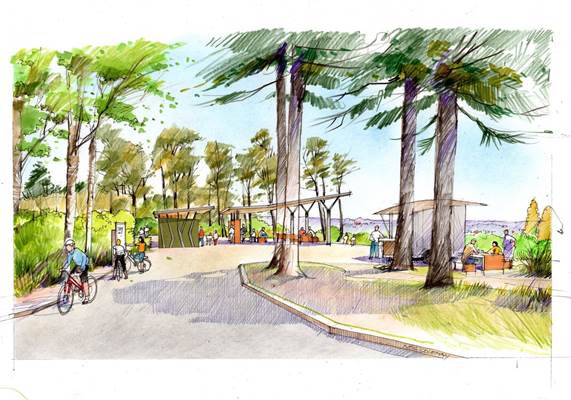 Opera House Update
2.12 The $11.4 million project started on 2 August 2017 with the removal of the original art from the safety fence in front of the opera house. These pieces have been stored and will be reinstated into the building precinct after construction is finished.
2.13 Over the last six weeks the contractors have removed the exceptional art deco stained glass doors from the front entrance and the first-floor balcony. They have been stored to ensure they remain safe until the strengthening is completed.
2.14 The tiles on the foyer floor have also been removed and replacement tiles which are still available in Italy have been ordered to ensure the look remains the same. The old tiles were uneven and broken so trying to conserve them has proved impossible. The floor had been photographed in detail to ensure the tilers can accurately replicate the design.
2.15 The preparation will lead to a start on strengthening the unreinforced brick walls of the historic theatre and foyer. As part of the first stage, the public toilets off the foyer will also be revamped. The old ticket booth under the staircase will be incorporated into the ladies' bathroom, and the fixtures, fittings and décor updated. The men's toilets will also get a facelift.
2.16 Hastings District Council has organised time lapse videos of the work to be uploaded to the Council website monthly so residents can see how the project is going. The videos are aimed at keeping the community continually updated with the opera house strengthening project. As well as the time lapse videos, QR codes have been attached to the wall of The Plaza which take users through to the main Opera House web page and onto updates on the project.
3.0 PLANS AND STRATEGIES
Windsor Park Reserve Management Plan
3.1 Public consultation commenced in July regarding the preparation of the Windsor Park Reserve Management Plan.
3.2 72 submissions were received from users of the Park, and key stakeholders and interest groups, including the Landmarks Trust.
3.3 Officers have used this feedback in the preparation of a Draft Windsor Park Management Plan, which was presented to councillors at a workshop in August.
3.4 One of the key 'interest areas' of the Park, was the future use of the land formerly occupied by Hastings Netball. Councillors were supportive of the potential community use of this site, and have instructed officers to undertake further work on a 'multi-use community/recreation hub'.
3.5 The Windsor Park Management Plan has therefore been put on hold, pending completion of this further work.
Draft Long Term Plan
3.6 Officers presented concept plans relating to the CBD and Civic Square to Councillors in August as part of their visioning workshops for the 2018-2028 Long Term Plan preparation. Officers will report back on CBD priority works and strategic plans with the Economic Development and Urban Affairs Committee at the meeting in October.
4.0 EVENTS AND ACTIVITIES
2017 Landmarks Awards
4.1 The 2017 Landmarks Awards were held at the Havelock North Community Centre on 31 August 2017.
4.2 The following awards were presented:
History

Havelock North Community

Mackersey Family Pavilion

Art

Hastings Icons

Landscape

Hastings Host Lions Club

Lions' Community Playground

Landscape/Art/History

Hastings Girls' High School

Te Wahiawa, Maori Language Suite

Architecture

Waimarama Surf Lifesaving Club

Waimarama Surf Lifesaving Tower

Architectural History

Wallace Development Company Ltd

HB Electric Power Board Building

Hutchinsons

Leadlight Restoration

Public Art

Arts Inc.

Edible Fashion Awards

Kohupatiki Community

Whakatu Pou

Façade Enhancement

107 Karamu Road North

Humanity Books

300 Heretaunga Street West

Alexanders Menswear

Jeremy Dwyer Award

The Hawke's Bay Knowledge Bank and its Volunteers
Spring Spruce Up Awards 2017
4.3 Entries for the Spring Spruce Up Awards are steadily coming in, with a BBQ held at the Garden Depot last weekend. There will also be a tent at the upcoming A&P Show advertising the awards, and encouraging people to sign up and enter.
5.0 RECOMMENDATIONS AND REASONS
A) That the report of the Parks Planning and Development Manager titled 'Landmarks Quarterly Report' dated 4/10/2017 be received.
There are no attachments for this report.
REPORT TO: Landmarks Advisory Group
MEETING DATE: Wednesday 4 October 2017
FROM: Parks Planning and Development Manager
Rachel Stuart
SUBJECT: Request for Abbott Bequest Funding for George Thompson-Pritchard Artwork Restoration
1.0 SUMMARY
1.1 A request has been received from the Duart House Society for funding from the Abbott Bequest to assist in the restoration of the remaining four George Thompson-Pritchard paintings displayed at Duart House.
2.0 BACKGROUND
1.1 In 2005 Council resolved to allow the Duart House Society to retain possession of the George Thompson-Pritchard paintings at Duart House where they were displayed. In addition, Council committed $20,000 from the Abbott Bequest to start the restoration process which was estimated to cost $70,000. Other funds have been raised by the Duart House Society.
1.2 To date 16 of the 20 paintings have been fully restored, with the following four yet to be completed (Attachment 1):
a. Off to the Fishing
b. The High Sierras
c. Connecticut Boathouses
d. Sunshine and Snow
1.3 The cost to restore these four paintings is $16000 (excluding GST). This request seeks $8000 from the bequest
1.4 There is currently $64,643.00 in the Abbott Bequest
2.0 ABBOTT BEQUEST ASSESSMENT CRITERIA
2.1 The Abbott Bequest is a funding reserve that can be utilised for the purpose of funding approved public artworks. Decision making powers on funding applications are delegated to the Landmarks Advisory Group.
2.2 The Abbott Bequest has a range of policies and criteria in place, aimed at ensuring that the best overall results are achieved in terms the funding of art works for the District. The policy directives as they relate to this application are assessed and discussed as follows:
Public Space Location
2.3 To obtain the best artistic results and to use the funds to their best effect in enhancing the District, it is desirable that the bulk of the Abbott Bequest funds are used to fund art pieces that are readily accessible to the public.
2.4 While Duart House is open once a month to the public, access is also is available to the public by appointment. It is also available for group and function bookings. As such there are a number of opportunities for the public to view the paintings.
Landmarks Themes
2.5 Art works seeking funding should be responsive to the key Landmarks design themes of Fertility & Abundance, good climate, Spanish Mission and Art Deco architecture, natural features, Maori culture and the spirit of recovery after the 1931 earthquake.
2.6 George Thompson-Pritchard was born in Havelock North in 1878. Despite spending his adult life overseas he never forgot his roots, and in 1949 decided to reinforce his ties with his birthplace by donating a number of his paintings to Havelock North via a specially formed Committee.
2.7 The art collection therefore is responsive to the Landmarks objective of promoting art as a valuable cultural media and theme.
Quality Assessment
2.8 Art items need to be of a physical design and made from materials that are appropriate for their intended location.
2.9 The artworks are housed safely inside a Council maintained building.
Siting Assessment
2.10 The proposed positioning and setting of an art piece will be considered, in order to present the work to its best advantage.
2.11 The artworks are on display at Duart House, which is considered appropriate as it is a public building with strong cultural ties to the District.
Maintenance Criteria
2.12 Where the funds are used for Council projects, the application should contain details any special requirements for cleaning, upkeep and the regular maintenance of any machinery or moving componentry.
2.13 The paintings are cared for in an appropriate manner using suitable qualified restoration consultants. All of the restored paintings have been repositioned in their original frames, but cushioned in order to prevent future deterioration.
Fund Management
2.14 As a guiding policy, the current end of year balance, of the Abbott Bequest Fund, should be maintained at a level as close as possible to fund balance at the end of the preceding financial year. To achieve this, annual grant(s) will generally be limited to the equivalent of the interest earned on this balance, plus the amount of the Council contribution for that year.
2.15 Recent grants from the fund include $10,000 (Karamu School Artwork), $50,000 (Civic Square Pou), $25,000 (William Nelson Sculpture), $40,000 (Trubridge shade at Village Green) and $15,000 (Whakatu Pou).
2.16 If the Landmarks Advisory Group were to agree to this new application, the balance would fall from $64,643 to $56,643, which is below the adopted maintenance threshold of $75,000.
2.17 It is recommended that the Committee authorise the allocation of $8,000 from the Abbott Bequest towards the restoration. Officers will then provide the remaining required funds from an appropriate area from the 2017/18 Parks budget, given the importance of the artworks to the community and their display in a Council owned and maintained heritage building.
3.0 SUMMARY
3.1 Over recent years our community has felt moved to celebrate its history and cultural diversity through public art. This is one of the four cornerstones of Landmarks and arguably one of the areas of endeavour that Landmarks have championed that has set Hastings apart from other cities and districts. The funding of such works is the very reason the Abbott Bequest was set aside.
3.2 The restoration of the art work has a number of attributes that make the project worthy of support and should approval to access the fund be granted, it would leave a balance of $56,643.
3.3 Officers are not aware of any other impending applications and as such are comfortable that over the next two years, the fund will return to its target balance. On this basis, officers are supportive of the application by the Duart House Society.
3.0 RECOMMENDATIONS AND REASONS
A) That the report of the Parks Planning and Development Manager titled "Request for Abbott Bequest Funding for George Thompson-Pritchard Artwork Restoration" dated 4/10/2017 be received.
B) That the Landmarks Advisory Group agree to fund $8,000 from the Abbott Bequest to enable the restoration of the remaining four George Thompson-Pritchard paintings.
| | | |
| --- | --- | --- |
| | George Thompson-Pritchard Paintings Awaiting Restoration | EXT-10-21-17-79 |
REPORT TO: Landmarks Advisory Group
MEETING DATE: Wednesday 4 October 2017
FROM: Parks Landscape and Projects Officer
Bart Leslie
SUBJECT: Tree & Shrub planting programmes 2017
1.0 SUMMARY
1.1 The purpose of this report is to update the Landmarks Advisory Group on the Tree and Shrub planting programmes for the 2017 season.
2.0 CURRENT SITUATION
2.1 Spring marks the time when the majority of Council's planting projects are undertaken. The 2017 programme consists of approximately 17,600 new shrubs and 400 new street and park trees.
2.2 For simplicity the tree and shrub programmes have been divided into two categories: (1) Renewal Plantings; and (2) New Plantings.
2.3 Renewal plantings are replacements of dead or failed trees and shrubs. New plantings are typically carried out in new or upgraded streets and newly formed parks as part of their initial landscape enhancement.
3.0 RENEWAL PLANTINGS
Street Trees
3.1 The 2017 Street Tree Renewal Programme includes 243 replacement trees as identified in Table 1 in Attachment 1.
3.2 The replacement of the melia trees throughout Southampton Street continues with up to 70 ornamental plum trees currently being installed as part of the footpath reseal programme. This tree lined streetscape will assist in the enhancement of this high profile gateway route.
3.3 The replacement of melia trees with further cherry blossoms along Queen Street is programmed to start the week commencing 2 October 2017.
3.4 There is also further melia tree replacement required in Hastings Street and Avenue Road as budget allows in future years.
Park Trees
3.5 The 2017 Park Tree Renewal Programme includes 19 replacement park trees as identified in Table 2 in Attachment 1.
4.0 NEW PLANTINGS
Street Trees
4.1 The planting of the rata trees along Karamu Road North was endorsed earlier in the year by the Landmarks Advisory Group and Council. These trees will transform this key entry route into Hastings.
4.2 Officers advise that the rata trees will be further enhanced with the installation of corten steel tree grates and supports which will add another dimension to this key entry route.
4.3 The 2017 New Plantings Programme for Street Trees includes 101 new street trees as identified in Table 3 in Attachment 1.
Park Trees
4.4 The 2017 New Plantings Programme for Park Trees includes 46 new park trees as identified in Table 4 in Attachment 1.
5.0 SHRUB BEDS
5.1 The shrub bed planting programme commenced in July with over 17,000 shrubs being planted across the District as identified in Table 5 below.
Table 5: Shrub Bed Plantings
| | | |
| --- | --- | --- |
| Location | Type | Number |
| Hastings | Renewal | 3,500 |
| Havelock North | Renewal | 1,000 |
| Flaxmere | Renewal | 1,000 |
| Havelock Village Green | New | 2,000 |
| Revegetation projects | New | 1,000 |
| Mangateretere Roundabout | New | 7,000 |
| Waipatiki Stream Restoration | New | 1,100 |
| Waimarama Domain | New | 1,000 |
| Total | | 17,600 |
5.2 The table also identifies shrub bed renewals, including the renewal of the planting at the Stortford Lodge roundabout where new buxus hedging and annuals within a raised planting frame will be utilised.
5.3 When selecting species for shrub renewal, officers continue to review and consider more appropriate plant species selections which provide not only more consistent plant themes, but also create a more robust planting palette, which is better able to withstand the rigours of increasingly dry Hawkes Bay summer conditions.
6.0 ANNUAL BED PLANTING
6.1 Winter annual planting is currently being removed and garden beds prepared for summer annuals around Labour weekend.
6.1 Officers and garden staff are currently looking at maximising the visual impact and amenity with annual colour use and are always looking to develop some fresh new high impact planting arrangements. Officers are also looking to enhance annual impact by installing raised timber beds on some of the annual beds to expose more colour particularly at key roundabouts such as Stortford Lodge.
6.2 Officers are also cognisant of the fact that the cost of annuals can be prohibitive so they are used sparingly but profiled in high profile locations where there is irrigation.
7.0 ISSUES
7.1 The effects of drought conditions over the last couple of years are continuing with approximately 25 trees expiring in the last 12 months.
7.2 It is expected that more trees will need to be replaced next year as the effects of successive drought conditions continue to become evident. Officers advise that there is a continuing strong emphasis on species suitability given the typical hot dry summers in Hawkes Bay.
7.3 While last summer was a reasonably severe drought, officers were pleased to see the overall shrub palette bounce back once the rains returned. Ironically the district has experienced one of the wettest winters in many years so conditions are ever changing and officers continue to investigate new shrub and tree species that can cope with these extremes of conditions.
Irrigation
7.4 Officers are constantly refining planting palettes when renewing existing beds based on whether the garden beds are irrigated or not. While a wider variety of plant species are available if an area has irrigation, Council's general move is to reduce our reliance on reticulated water. Thus the plant selection for an area without irrigation needs careful consideration with only the plants that can handle the prolonged dry spells of summer taken into account.
7.5 The integration of more drought tolerant tree & shrub species for harsh locations with no irrigation support, is strongly recommended over the coming years. As such species such as Chinese star jasmine, dietes, lomandra and ivy continue to prove their worth in the Hastings urban streetscape environment.
8.0 RECOMMENDATIONS AND REASONS
A) That the report of the Parks Landscape and Projects Officer titled "Tree & Shrub planting programmes 2017" dated 4/10/2017 be received for information purposes only.
| | | | |
| --- | --- | --- | --- |
| | 2017 Planting Programme | EXT-10-21-17-80 | |