Hastings
District Youth Council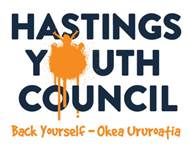 Civic Administration Building
Lyndon Road East, Hastings 4156
Phone: (06) 871 5000
Fax: (06) 871 5100
www.hastingsdc.govt.nz
M I N U T E S
Hastings District Youth Council
| | |
| --- | --- |
| Meeting Date: | Wednesday, 4 April 2018 |
Minutes of a Meeting of the Hastings District Youth Council
held on 4 April 2018 at 3.45pm
Table of Contents
Item Page No.
6. Youth Council Annual Plan 2
HASTINGS DISTRICT COUNCIL
MINUTES OF A MEETING OF THE Hastings District Youth Council
HELD IN THE Council Chamber, Ground Floor, Civic Administration Building, Lyndon Road East, Hastings ON
Wednesday, 4 April 2018 AT 3.47pm
Present: Chair: Cameron Young
Councillor Dixon
Rytasha Sekhon, Pelerose Vaima'a, Kate Allen, Caroline Jones, (HGHS); Abigail Masengi and Hope McCleland (Karamu High); Matekairoa Butler (Flaxmere College); Gurjas Sekhon and Cairo Smith (St Johns College); Connor Molloy (Napier Boys); Oscar Malpas (HBHS); Xinyi Chen (Iona); Charlotte Frogley (Woodford); Samantha Anderson (Sacred Heart); and Max Sharp (EIT);
IN ATTENDANCE: Youth Co-ordinator (Ryan Gardiner)
Committee Secretary (Carolyn Hunt)
1. Apologies
| | |
| --- | --- |
| | That apologies for absence from Ella Hoogerbrug, Hena Dugh, Dylan Bishop, Kaikohe Hutana, Eleanor Matich and Emilee Scarborough be accepted. |
2. Confirmation of Minutes
| | |
| --- | --- |
| | That the minutes of the Hastings Youth Council Meeting held Wednesday, 7 March 2018 be confirmed as a true and correct record and be adopted. |
3.

Incorporate Youth Employment – As a number of representatives are employed in part time jobs it was agreed that it would be a good idea to promote youth employment on Facebook.

Representatives who are employed post a photo on Facebook of them working, where they work and what they do.

Email to Ella Hoogerbrug things that could be posted on facebook pages:

· Speech competitions

· Representative teams for Hawke's Bay

· Someone you know who is doing great things, etc.

As part of Max Sharp's EIT course he is to compile a video and was looking for actors and sought confirmation that he could advertise on the Facebook page. Ryan Gardiner advised that he would confirm this with Council's Communications Team, but considered that Facebook was the voice into the social work for the Youth Council.
4. General Business
Addressed at the end of the meeting.
5.

(Document 18/249)

The Youth Co-ordinator, Ryan Gardiner, spoke to his report and made the following points:

· Informal session held on 14 March 2018 to finalise Annual Plan.

· Everyone was happy with the Annual Plan.

· If not assigned an activity email Ryan and advise preferences would like to work on.

· Ella Hoogerbrug (Chair) and Cameron Young (Deputy Chair) were invited to meet with Mayor Hazlehurst.

· Mayor Hazlehurst was to meet on a monthly basis with the Chair and Deputy Chair which would provide a good way to feed into Council.

That the report of the Youth Co-ordinator titled "Youth Council Update" dated 4 April 2018 be received.
6.

(Document 18/249)

The Hastings Youth Co-ordinator, Ryan Gardiner, reminded members they needed to start putting plans in place to complete the activities that had been set up for the Annual Plan 2018.

Activity 7 – Skate Park – This event had been scheduled for mid December. However members questioned whether this was the appropriate time. Having the event in October School holidays would enable more participation from members and give the youth something to do during the holidays.

Mark Wilson from Zeal was happy to help with the event and noted the concerns of Youth Council in regard to having Zeal's name attached to the event. Mark was happy to be a mentor and had advised that Youth Council were welcome to use his gear and he would organise a DJ for the event. He has run skate events before so has names of judges and the scorings used .

Activity 5 – Colour Run – This event was proposed to be held in August 2018, however, members agreed that the Term 2 School holidays in July would enable more participation from members.

Activity 4 – Youth Potential Awards – Will be held on 11 July 2018 at 6.00pm in the Hastings District Council Chambers.

Each year the Youth Potential Awards are held to celebrate Hastings youth aged 12 to 19 who are getting on and achieving despite facing personal challenges or adversity. The award categories are Tane (Male), Wahine (Female) and Ropu (Group).

Recipients of the Youth Potential awards are young people who have experienced adversity and continue to be successfully engaged in school and/or a youth programme. All nominations put forward, who is deserving will receive recognition.

The role of the Youth Council on the night was to meet and welcome visitors and escort them into the chambers to show them where they can sit. There will also be a part in the agenda when all members of the Youth Council will introduce themselves and on the night two members of the Youth Council will MC the awards.

Members indicated the following preferences for events to be involved with:

Event

Project Leads

Working Group

Civic Pride

Ella Hoogerbrug

Abigail Masengi

Colour Run

Cameron Young

Sam Anderson

Max Sharp

Abigal Masengi

Xinyl Chen

Charlotte Frogley

Rose Vaimai'a

Matekairoa Butler

Gurgas Sekhon

Caroline Jones

Kate Allen

Hope McCleland

Cairo Smith

Rytasha Sekhon

Skate Park

Kaikohe Hutana

Kate Allen

Hope McCleland

Rytasha Sekhon

Caroline Jones

Gurjas Sekhon

Connor Molloy

Oscar Malpa

Rose Vaima'a

Cameron Young

Youth Grants

Charlotte Frogley

Sam Anderson

Oscar Malpas

Matakairoa Butler

Connor Molloy

Cairo Smith

Cameron Young
The Youth Co-ordinator, Ryan Gardiner would email the activities that members had indicated they wished to be involved with so that group chats could begin and get the activities underway.

Ryan advised that $1500.00 had been allocated for the Youth Grants. However, anyone trying to raise substantial amount of money it could be regarded as an activity.

It was noted that Kaikohe Hutana had advised previously that he was prepared to organise a firewood raffle.

It was suggested that it may be an option to involve local businesses in regard to donating goods or products for a raffle.

Councillor Dixon advised that once a plan had been organised he could arrange to have two Youth Council representatives speak to the Hastings Business Association, which would cover approximately 10 retailers.

Youth Council members would talk to people and discuss amongst themselves in regard to Youth Grants. If a meeting room was required, Ryan was happy to arrange for a booking after school.

Charlotte Frogley/Abigail Masengi

A) That the report of the Youth Co-ordinator titled "Youth Council Annual Plan" dated 4 April 2018 be received.

B) That the Skate Park event (Activity 7) in the Annual Plan be scheduled to the month of October 2018.

C) That the Colour Run (Activity 5) be held in the Term 2 holidays (July 2018).
4.

Opening Celebration: "Play: Art that makes you move" - a fun, hands-on, interactive exhibition of work by Seung Yul Oh, Sara Hughes and Campbell Tamahina Burns will be opening on Saturday 7 April 2018 2.00-4.00pm through to July 2018 at the Hastings Art Gallery.

Next Meeting: Wednesday, 2 May 2018
________________________
The meeting closed at 4.20pm
Confirmed:
Chairman:
Date: