HASTINGS DISTRICT COUNCIL
Omarunui Refuse Landfill Joint Committee MEETING
Friday, 21 June 2019
VENUE:

Council Chamber

Ground Floor

Civic Administration Building

Lyndon Road East

Hastings

TIME:

1.00pm

A G E N D A
1. Apologies
At the close of the agenda no apologies had been received.
At the close of the agenda no requests for leave of absence had been received.
2. Conflict of Interest
Members need to be vigilant to stand aside from decision-making when a conflict arises between their role as a Member of the Council and any private or other external interest they might have. This note is provided as a reminder to Members to scan the agenda and assess their own private interests and identify where they may have a pecuniary or other conflict of interest, or where there may be perceptions of conflict of interest.
If a Member feels they do have a conflict of interest, they should publicly declare that at the start of the relevant item of business and withdraw from participating in the meeting. If a Member thinks they may have a conflict of interest, they can seek advice from the General Counsel or the Democratic Support Manager (preferably before the meeting).
It is noted that while Members can seek advice and discuss these matters, the final decision as to whether a conflict exists rests with the member.
3. Confirmation of Minutes
Minutes of the Omarunui Refuse Landfill Joint Committee Meeting held Friday 7 December 2018, including minutes while the public were excluded.
(Previously circulated)
4. Health and Safety Report - 6 monthly 5
5. Nine Month Activity Report 17
6. Additional Business Items
7. Extraordinary Business Items
REPORT TO: Omarunui Refuse Landfill Joint Committee
MEETING DATE: Friday 21 June 2019
FROM: Senior Health & Safety Co-ordinator
Nikola Bass
SUBJECT: Health and Safety Report - 6 monthly
1.0 SUMMARY
1.1 The purpose of this report is to update is to update the Committee about Health and Safety Management at the Omarunui Refuse Landfill.
2.0 BACKGROUND
2.1 The Health and Safety at Work Act (HSWA) came into effect on 4 April 2016.
2.2 The HSWA has created a role named specifically under the Act as "Officers". The Act places a positive duty on 'Officers' of an organisation to exercise due diligence to ensure that the organisation complies with its Health and Safety duties and obligations.
2.3 The term "Officers" in the Act includes those who hold positions that enable them to significantly influence the management of the organisation.
2.4 For the purposes of this Joint Committee these roles will be referred to "HSWA Officers" (to assist with differentiating between it and "Council Officers").
2.5 Due diligence requires HSWA Officers to take reasonable steps to understand the organisation's operations and Health and Safety risks, and to ensure that they are managed so that Council meets its legal obligations.
3.0 CURRENT SITUATION
3.1 Omarunui Landfill operates under Hastings District Council's Health and Safety Policy and Procedures
4.0 HEALTH AND SAFETY REPORTING
4.1 Regular reports have been provided to the Joint Committee on a six monthly basis for the last 18 months and there now sufficient history to provide comparative performance moving forward.
4.2 The Health and Safety Management Report has been updated from January 2019 to provide comparative analysis with previous data incorporating trending for Lead and Lag indicators.
4.3 Lagging indicators measure an organisation using past incident statistics, for example injury statistics. A leading indicator is a measure preceding or indicating a future event used to drive and measure activities carried out to prevent and control injury or illness. They are focused on future safety performance and continuous improvement, for example personal risk assessments, toolbox talks and audits. Health and safety reporting is most comprehensive when it encompasses both Lead and Lag Indicators.
4.4 In addition to the six monthly reports, any significant incidents or exceptions continue to be reported quarterly within the operational report.
5.0 SIGNIFICANCE AND ENGAGEMENT
5.1 The Report does not trigger Councils Significance and Engagement Policy and no consultation is required.
6.0 RECOMMENDATIONS AND REASONS
A) That the report of the Senior Health & Safety Co-ordinator titled "Health and Safety Report - 6 monthly" dated 21/06/2019 be received.
| | | |
| --- | --- | --- |
| | Health and Safety Report to Omarunui Refuse Landfill Joint Committee - 1 July 2018- 31 March 2019 | HR-03-8-2-19-147 |
1.
REPORT TO: Omarunui Refuse Landfill Joint Committee
MEETING DATE: Friday 21 June 2019
FROM: Waste and Data Services Manager
Martin Jarvis
Management Accountant
Jeff Tieman
Solid Waste Engineer
Philip Doolan
SUBJECT: Nine Month Activity Report
1.0 SUMMARY
1.1 The purpose of this report is to inform the Omarunui Refuse Landfill Joint Committee on landfill activities for the period ending March 2019.
1.2 This report concludes by recommending it be received.
2.0 financial position
2.1 The financial position of the main accounts at 31 March 2019 is as follows:
$

9 month actuals

$

9 month budget

$

9 month variation

Revenue*

5,009,131

4,352,400

656,731

Expenditure*

3,193,171

3,345,090

-151,919

Net surplus from operations

1,815,960

1,007,310

808,650
*Excludes the waste levy and ETS.
2.2 The net surplus from operations as at 31 March 2019 is $808,650 above budget. The surplus is partly a result of higher than expected special waste volumes and the programming of expenditure work.
2.3 Tonnages are currently tracking up on last year's actual total (66,295 tonnes versus 64,257 tonnes).
3.0 revenue
3.1 Total revenue from waste is above budget. This is mainly due to increased volumes of special waste.
$

9 month actuals

$

9 month budget

$

9 month variation

$

Annual budget

Commercial

2,480,874

2,227,500

253,374

2,970,000

Special

779,585

525,000

254,585

700,000

HDC

656,564

594,000

62,564

792,000

NCC

866,429

792,000

74,429

1,056,000

Total

4,783,452

4,138,500

644,952

5,518,000
4.0 expenditure
4.1 Expenditure is $47,061 over budget (includes waste levy and ETS) due to ETS with higher tonnes, leachate treatment improvement and external plant hire.
5.0 tonnages
5.1 Overall tonnages year to date are above budget by 6,295 tonnes or 10.5%.
| | | | | |
| --- | --- | --- | --- | --- |
| Activity | 9 month actual | 9 month budget | 9 month variance | Annual budget |
| Commercial | 35,754 | 33,750 | 2,004 | 45,000 t |
| Special | 8,186 | 5,250 | 2,936 | 7,000 t |
| HDC | 9,513 | 9,000 | 513 | 12,000 t |
| NCC | 12,842 | 12,000 | 842 | 16,000 t |
| Total | 66,295 | 60,000 | 6,295 | 80,000 t |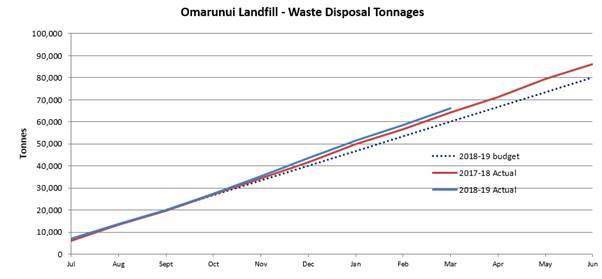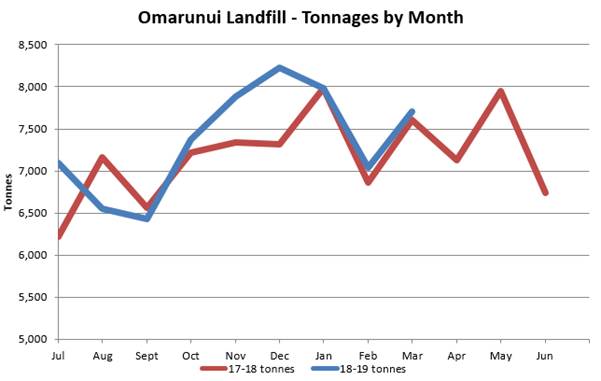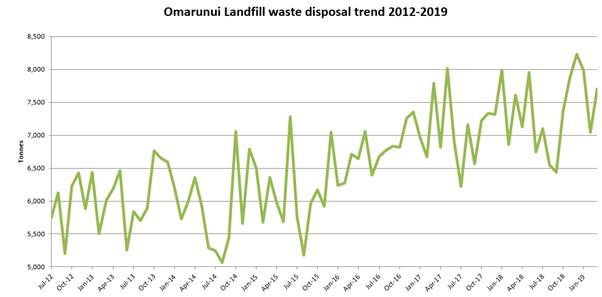 5.2 The budgeted volume of waste for the 2018/19 year is 80,000 tonnes. In 2017/18 the actual volume of waste received was 86,078 tonnes.
6.0 development update for area a & d
6.1 To date $567,188 has been spent on construction work in Stage 3C of Area D. This work is ongoing mainly involves the construction of gas extraction wells, pipe work and control systems. A small amount of work relating to earth works and temporary capping has also been undertaken. The development budget for the full year is $2,424,958. It is unlikely that this amount will be spent as the extension of Area D liner is now programmed for next financial year. The funds not spent in the current year will be carried forward to fund the future development stages in Area D. The next extension of Area D is programmed for the 2019/20 summer period.
7.0 development update for area B & C
7.1 To date $209,640 has been spent on planning, consent and conceptual work associated with the future development of the landfill site and in particular the area designated as Area B. This work has included draft designs as well as options on liner and leachate systems. Planning has also been undertaken in preparation for the consent and consultation parts of this development work.
7.2 Engineers and planners from both Tonkin & Taylor and Stantec are assisting the landfill with this work. The work undertaken by Tonkin & Taylor involves design, planning and consent applications while Stantec are assisting with consultation work.
7.3 Consultation information was emailed to local Iwi on 18 April 2019 and mailed to residents on 23 April 2019. Comment and feedback was requested by 31 May 2019. Those contacted to date include six local Iwi groups and approximately 100 neighbours living within one kilometre of the landfill.
7.4 At the close off date, the following provided feedback: Ngāti Pārau Hapū Trust, Hawke's Bay Regional Council, Trevor von Hartitzsch (419 Omarunui Road) and Neal Cave (417 Omarunui Road). A hui was held with Ngāti Pārau Hapū Trust at Waiōhiki Development Centre on 23 May 2019 to ensure 'face to face' consultation and engagement took place. The Regional Council noted that they will be involved when the regional resource consents are lodged. The two residents wished to be involved in a visit to the site.
8.0 LANDFILL GAS
8.1 Ongoing additional vertical gas wells have been constructed and integrated into the gas collection network. This has resulted in more gas being captured and further reduces the opportunity of odour escaping into the atmosphere from the compacted rubbish. The flare and "gas to energy" plant have more than enough capacity to receive this additional gas. Ongoing "balancing" of the gas field is required weekly to maximise gas quantity and quality. Remedial and maintenance work has been carried out on the existing gas pipeline in Area A. This has been undertaken to remove condensate blocks, leaks and improve pipe gradient to gain further gas collection efficiencies.
9.0 OPERATIONal and maintenance work
9.1 The tip area size has been reduced to a minimum so that operations can run as efficiently as possible. A smaller tipping area means that less daily cover is required and the "feeding area" for seagulls is reduced. Daily cover continues to be excavated from the quarry located in Area B. A number of new temporary litter fences have also been installed which help reduce the amount of windblown litter at the site.
9.2 Due to the significant amount of general maintenance work undertaken last financial year all the work programmed so far this year has been completed. Remaining routine work scheduled in the upcoming months includes the cleaning of the silt ponds and open drains.
9.3 Due to weather conditions mid to late winter 2018 a small amount of leachate was carted offsite for disposal. The cartage stopped as soon as the irrigation system was able to be reactivated. An additional 20 irrigation pods have been purchased and installed over last summer. This extension of the irrigation system enables the landfill to dispose of a greater volume of leachate by way of its spray irrigation consent.
9.4 The landfill has proactively engaged a specialist to undertake inspection and leak detection work on the pond that receives leachate prior to the leachate being spray irrigated or recirculated. The pond was drained and visually inspected during the process. Some potential weaknesses were identified and initiatives have been considered. After consulting landfill and liner specialists, it has been decided to simply replace the whole liner. This decision was made as the best way to ensure the integrity of the pond as it provides the most reliable long term solution. The relining work is being planned for June 2019.
10.0 landfill forest
10.1 The replanting of the main forest block at the landfill was carried out in July 2018. A follow up spot release assessment was carried out in September 2018, and survival assessments carried out in February 2019. It can now be reported that the replanting of the site has been a success with minimal plants requiring replacement.
11.0 health & safety and human resources
11.1 The Omarunui Landfill operates under the Hastings District Council's Health and Safety Policy. The Council's commitment under this policy is "to keep employees, volunteers, contractors and the community safe through living a strong safety culture".
11.2 Additional Health & Safety information, and matters relating to the performance of the landfill are the subject of a separate report to this committee.
11.3 Rest and meal breaks
From 6 May 2019 Legislative changes mean that entitlement to rest and meals breaks is now prescribed by the Act as set out below:
| | |
| --- | --- |
| Length of work period | Employee's minimum entitlement |
| Between 2–4 Hours | A 10 minute paid rest break |
| Between 4–6 Hours | A 10 minute paid rest break and a 30 minute unpaid meal break |
| Between 6–8 Hours | Two 10 minute paid rest break and a 30 minute unpaid meal break |
| More than 8 Hours | Repeats the pattern above i.e. 2-4 hours 10 minute unpaid paid rest break |
For some staff, this legislative change will necessitate changes to working hours (e.g. a part-time employee will no longer be able to work 9am-1:30pm straight, they will need to either shorten their work day to 4 hours, or extend it out to encompass a half hour unpaid break.
Council expects that all staff will be taking their rest and meal breaks as per their entitlement
The timing of both rest and meal breaks should be agreed between the employees and their Manager, or if agreement cannot be reached the Act prescribed when they will occur.
With this change in legislation we have looked into solutions to provide the kiosk operator with an unpaid half hour break. The options looked at are:
· Externally contracting out the half hour break at cost of approximately $23,400.
· Covering the half hour break with internal HDC resources from the Henderson Road refuse transfer station kiosk at a cost of $15,000 plus travel costs.
· Internally covering the break with onsite landfill staff. This would interrupt the working day of those staff members and efficiencies would be lost when shuffling staff around.
· Closing the landfill for a short time during the course of the day. We could trial closing the gates for 30 mins between 12:30pm -1:00pm and gage the impact of this change.
Having considered the options officers are keen to trial closing the gate for the 30 mins each day. It is proposed to trial this for a period of one month. An additional positive outcome of this move will be the efficiency gained by not incurring any down time when swapping out machine operators at the tip face for their breaks. Staff can all have a break at the same time. If any of our customers find that they are running late on any given day during the course of the trial, they will be encouraged to call the kiosk to see if their load can still be received. Landfill staff will, within reason, accommodate the customer.
12.0 efficiencies
12.1 A variety of efficiencies have been achieved over the last two years that have helped keep the gate charges as low as possible. The landfill will continue to look for operational and developmental efficiencies that will keep Omarunui in this favourable position. Areas that have been looked at to gain efficiencies in include the following:
· Landfill gas extraction and the implementation of the Tonkin & Taylor recommendations – ongoing.
· Management of the landfill's obligations under the ETS - ongoing.
· The access road to the tip face has been shortened. This has resulted in savings to the landfill – ongoing.
· Efficiencies were gained by minimising the number of times the tip face was moved and keeping the area as small as possible – ongoing.
· Where possible development work has been integrated with operational activities to the benefit of both cost centres.
· Making maximum use of the area designated for waste disposal – area D extension approved and construction to commence summer 2020.
· Installation of additional temporary litter fences to contain windblown litter to the tipping area.
13.0 PLANT ReplacemenT
13.1 The Caterpillar Compactor is nearing its due for replacement. Funds for the replacement of this machine are allowed for in the 2019/20 budgets. It is therefore intended to prepare tender documents early in the 2019/10 year so that a new compactor can be purchased (or even leased) by the landfill. Options around purchase, lease and retaining the existing machine as a backup leased will be considered as part of the replacement process.
13.2 The Caterpillar loader is also nearing its replacement date and funds for this have also been allowed for in the 2019/20 budgets. Tender documents for this replacement will be prepared at the same time as for the compactor.
14.0 PLANT MANAGEMENT CONTRACT
14.1 The current Omarunui Plant Management Contract (held by M.W Lissette) is due to expire in November 2019. Landfill staff are assessing operational needs and intend to re-tender this work early next financial year.
15.0 HBRC CONSENT COMPLIANCE
15.1 Full resource consent compliance was achieved by the Omarunui Landfill for the 2018/19 year. The annual Hawkes Bay Regional Council compliance monitoring report gave the landfill a grade of "full compliance" in regard to the consents it operates under.
16.0 financial summary
16.1 Attached to this report is the financial summary for the 9 month period ending 31 March 2019.
That the report of the Waste and Data Services Manager, titled "Nine Month Activity Report" dated 21 June 2019, be received.
| | | |
| --- | --- | --- |
| | Omarunui Refuse Landfill Financial Summary March 2019 | CG-14-27-00044 |